How To Make Sean Brock's Fried Chicken & Husk Hot Sauce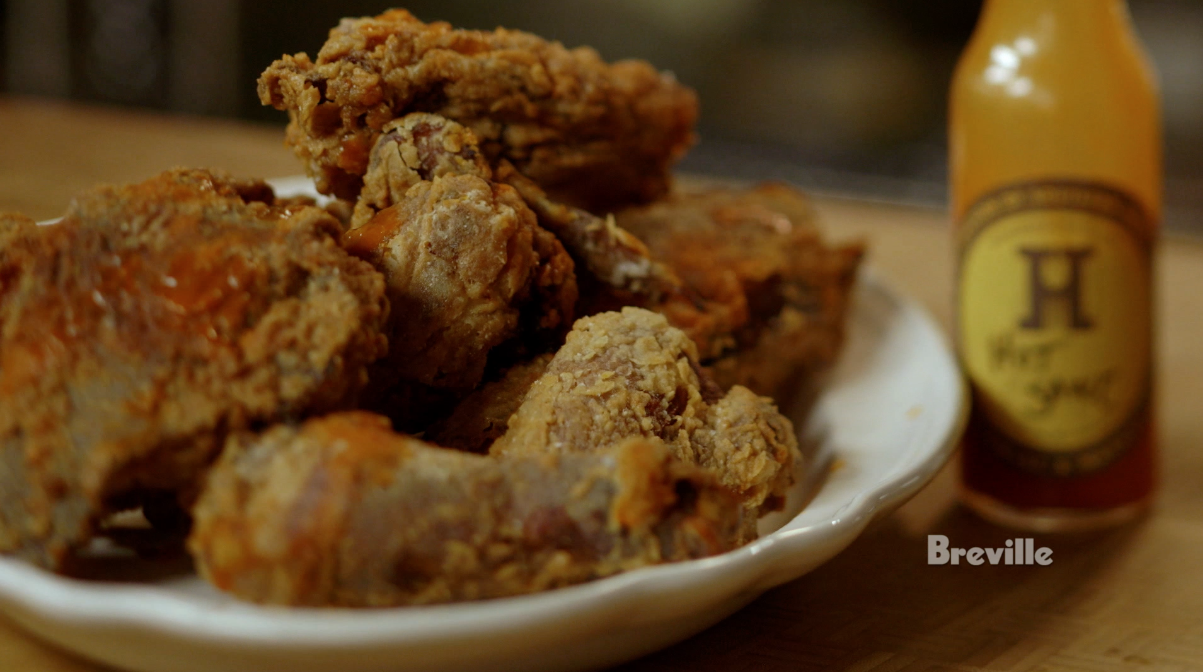 Here at The Mind Of A Chef, we are obsessed with taste memories. That one bite that brings you back to your grandmother's kitchen... It's everything. So when we started gathering taste memories from different chefs, we realized Sean Brock may of had the greatest childhood of all time. Why? Because the taste of his childhood was fried chicken. And really good, homemade fried chicken. So let's all take a trip back to Sean's past with this amazing recipe.
https://youtu.be/w4C69uJNz-I
RECIPE FRIED CHICKEN AND GRAVY Reprinted with permission from Heritage by Sean Brock.
I've been worked on my fried chicken for many years, researching every recipe that I could lay my hands on, from early antebellum instructions to the Kentucky Colonel's secret technique. This recipe uses five fats, and each one contributes to the flavor of the result.
To do the chicken right, you need an old black cast-iron skillet with a lid. Sure, you can make it in a deep fryer (like what we do at the restaurant). But I prefer the old-fashioned way, which is nearly impossible to pull off in a restaurant. The skillets take up so much stove space that you can't make more than ten orders at a time. So this isn't the fried chicken you're going to eat at Husk. This is the way grandmas cook fried chicken in the South, and it's the way everyone should be making fried chicken at home.
This recipe takes a lot of time and attention, way more than most conventional approaches (the chicken must be brined for 12 hours, so plan ahead). But it's good. Be sure to ask your butcher for the chicken skins to render for fat and to sauce the cooking fat which makes mighty fine gravy. I've thrown that recipe in here too, to complete the meal just like my grandma would have.
Serves : 2
INGREDIENTS
1 gallon water 38 regular black tea bags or 4 ounces loose tea, such as Charleston Plantation Tea 1 cup kosher salt 1 cup sugar 1 chicken (about 3 pounds) 2 quarts whole-milk buttermilk 3 tablespoons Husk Hot Sauce 1 tablespoon plus 1 teaspoon freshly ground black pepper 1 ½ pounds chicken skins cut into ½-inch squares 6 cups flour, preferably Anson Mills White May Flour (see Resources, page 326) 1 cup fine cornmeal, preferably Anson Mills Antebellum Fine White Cornmeal (see Resources, page 326) 2 tablespoons cornstarch 1 ½ teaspoons garlic powder 1 ½ teaspoons onion powder ½ teaspoons cayenne pepper ½ teaspoon smoked paprika 1 cup Rendered Fresh Lard 1 cup canola oil 2 ounces Benton's slab bacon, diced 2 ounces Benton's smoked ham, diced 2 tablespoons unsalted butter Sea salt
DIRECTIONS
For the Brine:
Put the water in a pot and bring to a boil over high heat. Remove from the stove, add the tea bags, and let them steep for 8 minutes.
Remove the tea bags, or strain the liquid if you used loose tea. Add the salt and sugar to the hot water and stir to dissolve them. Pour the brine into a heatproof container and cool it to room temperature, then refrigerate until completely cold.
Cut the chicken into 8 pieces: 2 legs, 2 thighs, 2 wings, and 2 breasts. Rinse with cold water. Place in the brine, cover, and refrigerate for 12 hours.
After the chicken has spent 12 hours in the brine, make an ice bath in a large bowl with equal amounts of ice and water. Place the chicken in the ice bath for 5 minutes. (The ice will rinse away any impurities.) Remove the chicken and pat it dry.
Combine the buttermilk, hot sauce, and 1 tablespoon of the black pepper in a large container. Add the chicken to the buttermilk mixture, cover, and let marinate for 1 hour at room temperature.
While the chicken is marinating, put the chicken skins in a small saucepan over very low heat, adding a small amount of water to prevent the skins from sticking and burning. Cook the skins, stirring frequently so that they don't burn, until their fat is rendered. Strain the fat; you need 1 cup.
Drain the chicken, quickly rinse under cold water, and pat dry.
Combine the flour, cornmeal, cornstarch, garlic powder, onion powder, the remaining 1 teaspoon black pepper, the cayenne pepper, and smoked paprika in a large bowl and mix well. Add the chicken and toss to coat thoroughly. Allow it to sit for 15 minutes, then shake off any excess, transfer the chicken to a wire rack, and let sit for 15 minutes.
Meanwhile, put the chicken fat, lard, and canola oil in a large, deep cast-iron skillet. Add the bacon and ham and heat the fats to 275°F. Turn the heat off and allow the bacon and ham to infuse the fats and oil for 10 minutes.
With a skimmer or slotted spoon, remove the bacon and ham from the skillet (discard them or eat as a snack) and heat the oil to 300°F. Add the breasts and thighs and cook for 3 minutes. Add the legs and wings and cook for 5 minutes.
Turn the chicken over, cover the skillet, and cook until the pieces of chicken are the color of hay, about another 5 minutes. Remove the lid, turn the pieces again, cover, and cook the chicken until golden brown, another 3 minutes. Add the butter and continue cooking, turning the pieces once, for another 2 minutes or so on each side.
The chicken should be crispy and golden brown. Let the chicken rest and drain on wire racks or on a plate covered with paper towels for about 8 minutes, but no longer.
Sprinkle with sea salt.
Notes:
If you use a large, deep cast-iron skillet and the recommended 3-pound chicken, a small bird called a fryer, you shouldn't have and trouble frying all the chicken at one time. If that isn't possible, use two skillets and mix two batches of fat to achieve the flavor and crispness imparted by the combination of fats.